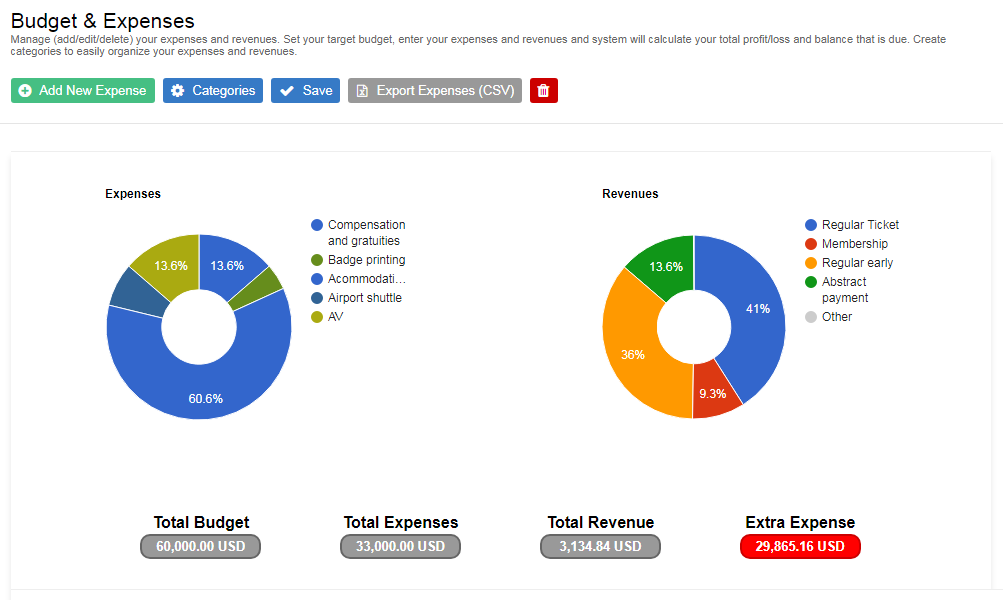 The academic world isn't short of events. From presentation of research, forums, seminars, conferences, there are so many things that need thorough planning and impeccable organization in order to ensure that everything runs like clockwork.
However, organizing an event using the traditional methods can prove to be tedious, time-consuming and to some extent, inefficient. It's a good thing that technology has been able to lend a hand to all event organizers in the form of academic event management software.
So, what exactly are these university event management platforms? The cloud-based event platforms assist event planners in structuring their academic event functions and help them to execute their agendas systematically.
They help to keep track of the guest list, collect registration fees through credit card payments online, initiate abstract submissions and assign these submissions to reviewers, build interactive program schedule available on website and mobile apps, reach out to all your possible guests and attendees and many other useful features.
With so many choices out there, it could be quite a task to pick out the best one for your event organization needs. With these tips on how and what to look for, you wouldn't need to spend precious time cracking your head to find the most suitable event software for the event that you have in mind.
☑ #1 Does it Meet my Goals?
The first thing to think about is whether the features in the event management are aligned with what you will be needing to ensure that everything planned for the event will be running smoothly. Pick one that would be able to assist you in the most tedious and time-consuming parts of your event and things that you need to get done as precisely as possible. Once you have these out of the way, most of the other trivial things can be easily taken care of.
☑ #2 Is it User-Friendly?
You will always need to bear in mind that a majority of keynote speakers and senior researchers are, well, senior. In these cases, it would be quite likely that they would be stumped by all these "fancy" apps and online invites. Here, user-friendliness of the software comes into play. Try to find a software that has a simple layout, with straightforward options and fields to minimize confusions and difficulties when your guests interact with the software.
☑ #3 Is there an Internal Communication Tool?
Internal communication would be a key tool for almost any event planning situation, really. You will constantly need to keep the communication channels open so that you can discuss any ideas or share information on the event via a single platform. If the software also offers a mobile app version, even better. You and your event planning team would be able to communicate with each other on-the-go, which is pretty beneficial for academicians that are in different states or overseas.
☑ #4 Can it handle my Event Size?
Event size is also something that will need to be considered when making a choice. Some academic event management platforms only cater for smaller, group events and can be quite limiting if you are planning a symposium on a grand scale for researchers coming from around the entire country. Choose one that is able to handle your large guest lists, as well as logistics, and has multiple communication channel integrations, especially if you are expecting any speakers or researchers who are based in a different country.
☑ #5 How about Branding and Customizations?
As an event planner, you would like your invites and guest check-ins to be as personalized as possible. Also, it being an academic event, you would like the layout to be more professional and minimal. You don't really expect someone to take your academic event seriously if you have a rainbow colored., default invite now, do you? If your event is being sponsored, it may be crucial that the software allows the addition of sponsor logos to all your event's physical and digital media, be it pamphlets, event agenda books, online invites and such.
☑ #6 Can it be Integrated with Social Media?
Social media is the go-to method to spread the word in this day and age. And the best part, these social networking sites are also a great medium to grab the attention of the much younger demographic of academic scene. Select an option that allows you publish your event posters and visuals via sites like Twitter and Instagram for maximal exposure and integrate your invites and check-ins, usually via more complex platforms like Facebook.
☑ #7 Does it have Analytics & Reporting Capability?
Analytics features often offer the breakdown of your event and its components, allowing you to assess the success of your forums, debates or conferences. Using such built-in analytics features, you would be able to identify the weak points of your academic events and find ways to fix these for the upcoming ones. Besides that, it also gives you a good idea of your reach as well as interest in certain topics, commonly by demographics and interests. This way, you would be able to curate more specific guest lists of academics that would be interested in that particular topic or style of event.
☑ #8 How Good is the Support?
If a software does not have a good support team or customer care, it is as good as useless. When something breaks or does not work the way it should, you usually will need help to be provided at light speed, especially if your event is only a few days away. While still in the process of choosing a software that meets your needs, send an email to their support team, reach out through live chat systems or their social media pages to see how long they take to get back to you. Check out their help pages too and assess helpfulness, those would come in handy if anything goes wrong later.
☑ #9 Does it have a Free Trial?
Free trials are always a welcome option. You get to play around with the software, try out the features and see how well it goes with your event, without having to fork out a single cent. Such free trials are great when you're scouting for a software for long-term use in event planning. If the free trial also allows other members of your academic event planning team to try it out, better still.
☑ #10 What's the Price Point like?
The ultimate question is frequently that of the cost involved in using a particular event management platform. Once you have shortlisted a few, compare their prices and then weigh them against the functionalities and how suitable they are to your needs. Sometimes, it would be a better option to take the ones that can take care of the main parts of the event planning process, for a smaller amount to pay rather than paying big bucks for a platform that offers a wide range of features that you barely use.
---
Dryfta is the all-inclusive academic event management software that meets most of the needs of any academician looking to arrange for their scholarly events.
It offers an all-in-one solution for guest management, ticketing, abstract submissions, automated assignment and peer reviews, email invitations, program scheduling, project management and communications. It also comes with budgeting and planning features, which is quite useful if you're looking to keep the event as cost-friendly as possible.
Have a go at our free trial and see if the features are a match for what you had in mind for your event planning purposes.
---