At times, attendees register twice using different email addresses for various reasons. For example, sometimes they forgot the password and instead of requesting a new password, they would simply create a new account. Or, if a subordinate has created an account for a user, and has not notified about the same, the user would unknowingly register again to create an account. There're many other scenarios where duplicate accounts are created with each account holding some important information about the user. So, normally, the organizer would manually copy each piece of information from one account to another and then discard one of the accounts. This, however, results in lost time. Lots of lost time.

Merge contacts with the click of a button

To make merging easy for our organizers, we have added the Merge Contacts tool to merge duplicate contacts along with their information including the tickets purchased, orders placed, schedule saved & checked-in to, abstracts & reviews submitted, emails sent, profile & abstract submission activity logs, surveys participated, vCards collected, meetings requested etc.
How it works
Simply go to your event CRM and click on Duplicate Contacts button and system will open a popup and display a list of duplicate contacts with similar names & email addresses. Click on the Merge button to merge the duplicate contact with the original contact. In the next popup, you need to select the original contact with whom you want to merge this duplicate contact and then finally click on Merge Contacts to merge these two accounts and their associated information.
Data duplication workflow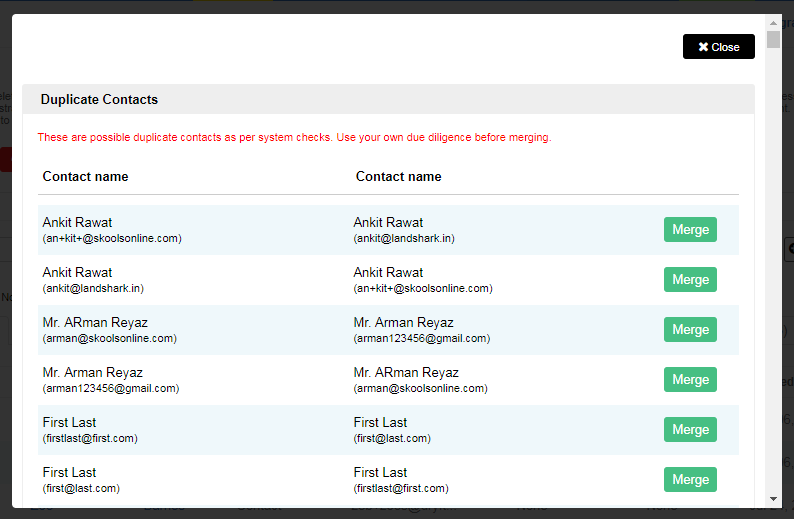 During the merging process, the duplicate contact's roles are also assigned to the original contact. Also, settings like Display your profile to visitors, Display abstracts in your profile, Check-in to the Event shall remain unchanged for original contact when merged.
Only if fields are empty in original contact's registration form, abstract submission and other forms, data in the duplicate contact's fields will be copied to the original contact's account. In case, the original contact's fields are already filled with some information, duplicate contact's data wont be copied to those fields.
---
To see the latest features and improvements made to Dryfta event platform, go to our
System Status
page.
Dryfta offers a free trial account for 30 days to all universities and non-profits to try the platform with up to 30 free registrants.
---