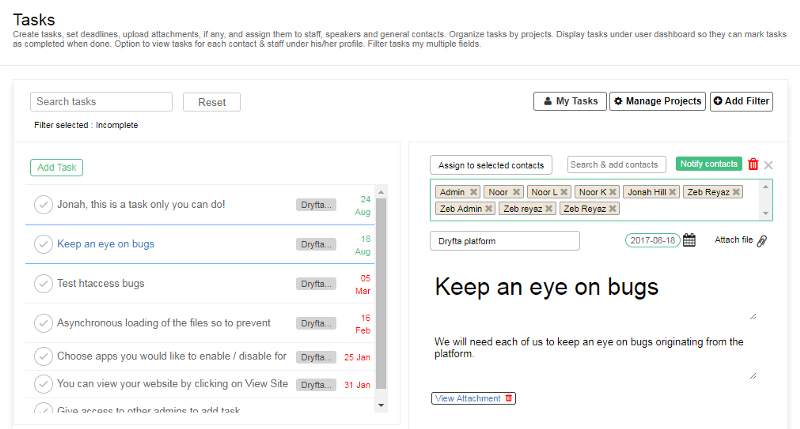 The ability to delegate tasks and getting them done right and on time is the key to a successful event. For easier and efficient task management, it is important to have a well-planned, task-by-task approach for volunteers and admin staff and be able to hold them accountable for their tasks that they have been assigned with.
Generally, organizers use one of the many project management systems or a spreadsheet to create & manage tasks, view assigned tasks and their status. One has to keep going back to the system to check if the task has been completed. Also, due to the lack of in-depth integration between project management system and the event CRM, tracking users and the status of their tasks becomes tedious and cumbersome.
To make all of these processes part of a single workflow for easier, faster and efficient task management, Dryfta event platform has a fully-integrated task management suite which integrates with Dryfta event CRM, File manager and the respective users' self-service dashboards.
Create & Assign tasks to multiple users and roles
Create tasks quickly & easily and assign them to different stake holders. In Task manager, option to Assign tasks to multiple users at once. Option to select all users or only a few users with a specific role.
Ability to set deadline for each task
Admin can set deadline for each task and send notifications to users to whom tasks were assigned.
Upload attachments and add descriptions
Option to upload multiple attachments in each task and add detailed information about the task. The more details, the better.

View tasks assigned to individual staff and speakers
Admin can add tasks for individual users from the CRM itself. Tasks created for a user under user's To Dos in the event CRM are also added under Task manager.
Filter tasks by multiple criteria
Create filters in Task manager to filter tasks by assignee, task deadline, task status, project name.

Users can view & manage tasks from their dashboard
Speakers & admin staff can view & manage their tasks from their dashboard under To Dos. Tasks are displayed with task title, attachments, if any, task completion deadline and a button to mark the task as completed.
Users can mark tasks as Completed
When a task is marked as completed, it is also updated in real-time in Task manager in the backend and in the Event CRM.