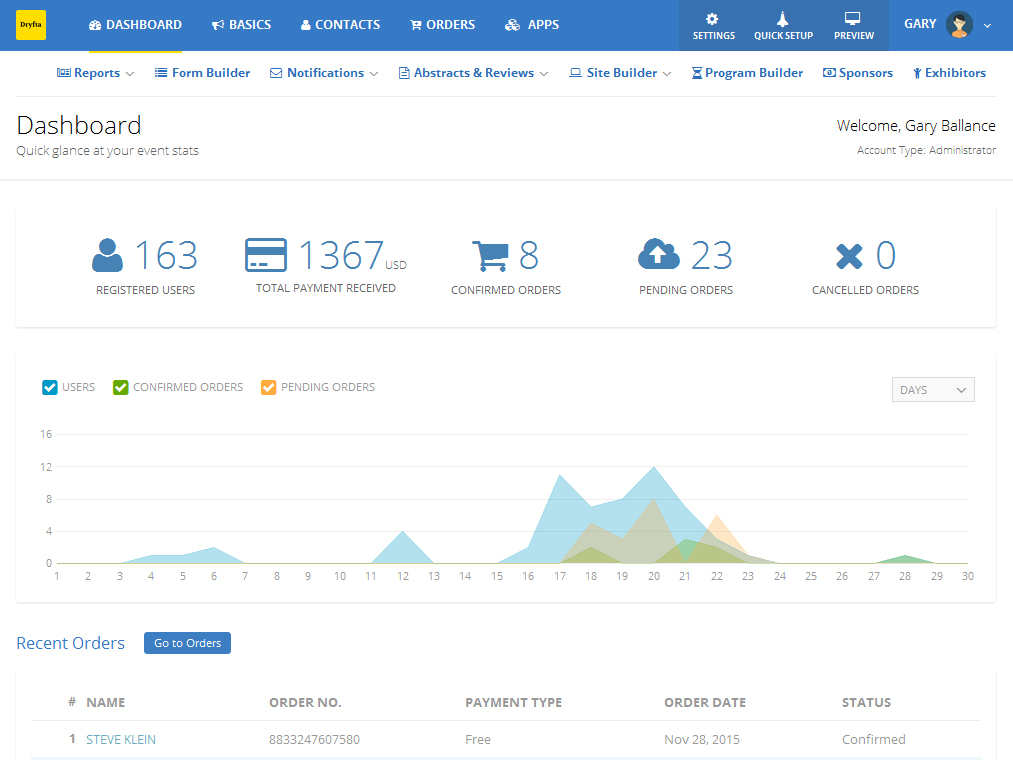 There are almost 300 event management platforms out there. However, not everyone caters everything to everyone. Some only focus on registration systems, while others focus on attendees engagement. Some are primarily developed for corporate events, while others are focused on academic conferences. The problem is not a single event platform was ever developed with academic conferences in mind. There are platforms which provide abstract management, peer reviews, and ticketing but that's not all that happens in academic conferences. Apart from presenting their papers, they also attend numerous sessions, workshops. The attendees at the conference network with fellow attendees, speakers, authors and researchers, collect leads and contact details from them, setup one to one meetings with each other. There's so much that happens in an academic conference.

Coming to the management aspect of the conference, apart from an expansive abstract management and peer reviews system, the chair/event organizer also needs tools to send mass emails to all attendees, segment attendees by topics, demographic etc and send targeted invitations and notifications, create badges, publish conference website, create and customize registration forms, setup payment gateways for allowing attendees to purchase tickets online, setup program sessions, workshops and intervals on the event website, customize email notifications, add sponsors and exhibitors details, manage attendees check-ins and so much more.
This is what made us at Dryfta think of doing some justice to this by implementing these necessary tools to Dryfta's event management platform and help conference organizers help their attendees make the most of their time while at the conference, and also make it easy for conference staff to manage the various aspects of the conference.
Let's see what makes Dryfta the most preferred conference management platform for academics:
Attendee registration.
Call for abstracts – Abstract management.
Set abstract deadlines, word limits.
Submit and Save buttons on abstract submission forms, just in case author wants to save the abstract and submit it later.
Peer review with ability to assign multiple reviewers to single abstract.
Prevent reviewers from viewing author details.
Add topics with Topics manager.
Form builder – Add custom fields for Attendee registration form, Reviewer registration form, Abstract submissions form, Review submission form, Ticket purchase form.
Customizable ticket forms.
Credit Card, PayPal payment options.
Offline payment payment options – Cheque, Demand draft, Pay at the venue.
Author dashboard – Log in to dashboard and submit abstracts, manage/edit abstracts, manage tickets & invoices, add sessions to personal schedule, collect vCards (contact details) from other attendees, update profile.
Reviewer dashboard – Manage assigned abstracts, review assigned abstracts, edit reviews, manage tickets & invoices, add sessions to personal schedule, collect vCards (contact details) from other attendees, update profile.
Option to publicly display abstract archive of all abstracts submitted.
Customize and Generate abstract book in PDF and CSV formats.
Program builder to add sessions and workshops and intervals, with the ability to add unlimited tracks, formats and session locations.
Ability to create invite-only sessions and send invitation to selected attendees.
Badge builder – Create badges for all attendees at once.
Lead retrieval – Collect vCards contact details of fellow attendees by sending vCard requests or scanning their badge's QR code using the in-built scanner in the mobile app.
Attendees can send One-to-One meeting requests to fellow attendees from their dashboard.
Personal schedule builder for attendees to save only sessions which he/she wants to attend.
Check-in attendees to the conference with a simple check-in button. Accessible from iPads and tablets.
Attendees can check-in sessions.
Authors can design their posters using Picasso, the poster designer.
Mass mailer to send notifications to all attendees at once.
Segments allow you to segment/group attendees based on various data points. You can also send emails to all attendees in a segment. That's targeted email marketing!
Responsive, cross-compatible conference website.
Fast-loading mobile website perfectly synced across all devices including Android, iPhone, iPad and desktop.
Customize email notifications. There're around 32 email notifications which are sent from the system for various actions. All of them can be customized to your liking.
Create custom reports and share with multiple teams to keep them updated about attendee information, in real time.
And we're not stopping at this. There's a lot more new features we're currently working on including new fields, an improved abstract book builder, more payment gateways for you to choose from, journal manager, task manager, budget manager, live streaming to name a few.
We always request our users and readers to keep sharing their feedback and suggestions on improving our platform. Here's the URL to create your event platform – It's free for conferences with up to 120 attendees. The more you use Dryfta, the more you inspire us to improve it.