Need to create a simple pre-event poll? Or a complex questionnaire with dropdowns, multiple choice questions, comment boxes, conditional fields et al? We've got you covered.
Introducing Survey Manager. It lets you create any type of survey form – from simple to sophisticated – and makes it available to users to participate in the survey (comes with the option to allow only registered users to participate in a survey).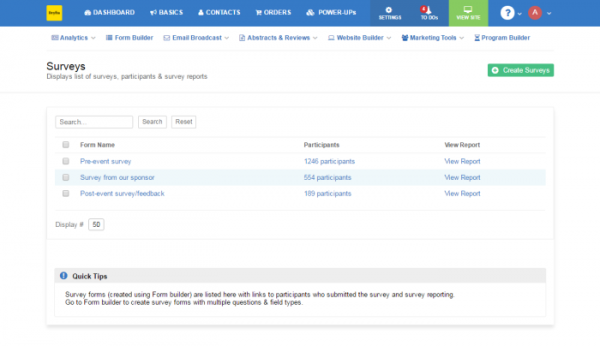 As an admin in the backend, you can create surveys and multiple survey questions, view participants and their answers, view reports with numbers and charts viz. how many people chose what answer, which were the top choices, the least-selected choices etc.

Here're some other features available to platform admins:
Filter participants by the answers submitted by them
View survey reports with charts and graphs
View list of participants with their individual poll answers with a button to view registered participant's details
In a contact's detail page, we have added a tab named 'Surveys' to display all the surveys this user has taken along with the links to the survey forms
When a survey is created, a menu item in the website's navigation bar is automatically created which links to the newly-created survey form. Admins have the option to hide the survey URL and display the survey form only to logged-in users so as to allow only registered participants to participate in the survey.
To see the latest features added and improvements made to the Dryfta event platform, go to our System Status page.
Dryfta offers a free trial account for 30 days to all universities and non-profits to try the platform with up to 30 free registrants. Our pricing plan is most flexible and affordable than any other platform out there and has been designed according to the needs and budget of our targeted customers i.e. universities and non-profits.
---