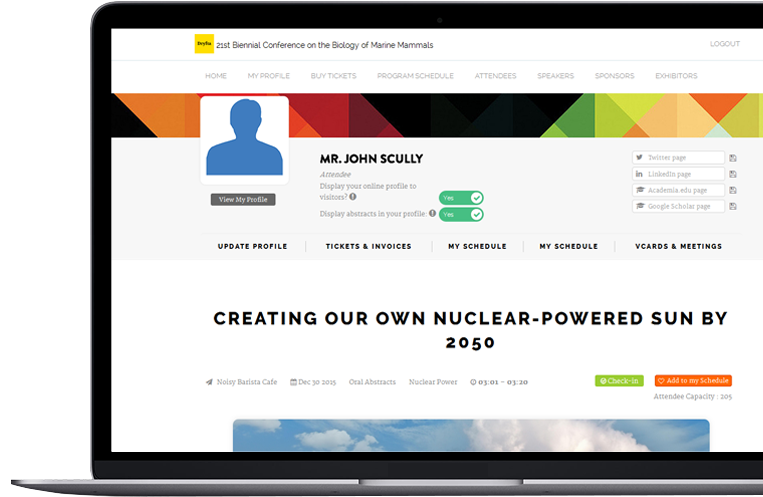 Streamline engagement and interaction for attendees with unmatched features for event registration, ticketing, abstract submission, personal scheduling and more.
Dryfta event platform offers a lot of features to your attendees including event registration forms, online payments for tickets and abstract submissions, abstract submission dashboard to submit abstracts, review submission form for reviewers to submit reviews for assigned abstracts, networking tools including setup meeting buttons, matchmaking, personal schedule, memberships, name badges, public profile to view speakers' and attendee's details, invoices dashboard to print invoices for tickets purchased, participation certificates to honor attendees for participating in the conference, QR code scanner to scan QR code and save leads, Mobile app for on the move networking and more.
Here's a partial list of features available to attendees:
Update Profile :
Update registration information and change password.
Tickets & Invoices :
Go to this page to complete pending payments, if any, and to download and print invoices for fees paid for registration.
My Abstracts :
Access this menu to submit abstracts and manage abstract(s) already submitted.
My Schedule :
Manage personal schedule including sessions one has saved and checked-in to.
Membership :
This page displays membership details if attendee has purchased a membership plan.
VCards & Meetings :
Lists vCards attendee has collected & Meetings request(s) received from other attendees.
Matchmaking :
A matchmaking tool which recommends attendees with similar interests.
Notifications :
Enable/disable email notifications sent to attendee from our system.
To Dos :
Lists tasks that have been assigned to the attendee for completion.
Sessions I am speaking at :
Displays the list of sessions the speaker is speaking at.